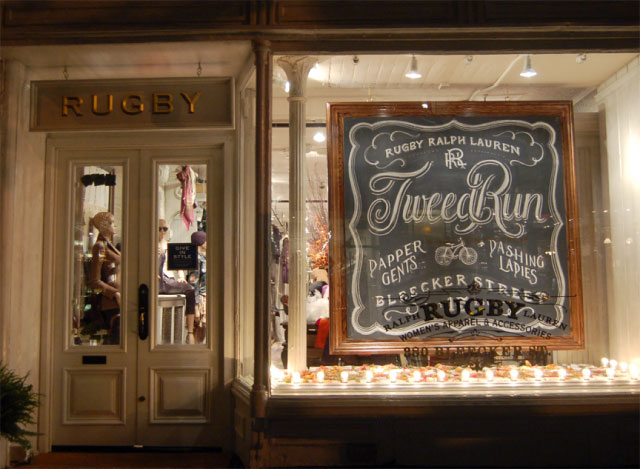 By The Innovation Leadership Network blog, written by Tim Kastelle and John Steen,  members of the Technology & Innovation Management Centre in the School of Business at the University of Queensland
When I'm doing public talks, one of the big misconceptions that I have to work around is the idea that innovation is only about making new stuff – that you can only innovate if you're making things like iPhones. Schumpeter defined innovation as the formation of new connections which drive economic growth. In The Nature of Technology: What It Is and How It Evolves

, Brian Arthur reinforces this idea by saying that all new economic ideas build on the combination of things that already exist.
When you do this, the outcome is often business model innovation. I ran across two interesting examples this week.
The first is chalk artist Dana Tanamachi – who was featured in a WSJ video:
Tanamachi makes absolutely gorgeous signs out of chalk. They are beautiful, ephemeral creations, like this (see more examples here):
This is craft-based innovation. Chalk art has been around for a very long time, and promotional sign painting has been too. Tanamachi has combined them to come up with something new.
From a business model standpoint, hers is unique. It will be difficult for someone to copy, because it is based on the unique skills that she has built up over time.
The problem with craft-based business models is that they don't scale. How as Tanamachi gotten around this? By locating in a huge city where she is able to build demand over time. New York can sustain a business like this, but it wouldn't work very well in most towns.
It's a small thing, but I do really love examples of people being able to build a business around their passions.
In contrast, Dollar Shave Club is built to scale up fast. Their promo clip explains the deal:
Many razors these days are overengineered. And they are sold as physical products.
The innovation in Dollar Shave Club isn't in the technology – they're actually going backwards in terms of tech. Their innovation is in the business model. They have turned the product into a service. Here is how Seth Godin describes it:
"Here's how they did it:

First, realize that razors are boring and expensive and that buying them is a bit of a hassle. If you address all three of these issues for the consumer, you don't need to deliver a better razor in order to succeed–all that's necessary is a better way to get the razor in the hands of the buyer. The model of permission is at the heart of the project–the razor business can't possibly pay off if consumers only buy one or two times and then get bored. Instead, Dollar earns the right to send you a bunch of razors every month forever, making the value of a new customer very high. They can invest that value into a clever video and into aggressive pricing."
Dana Tanamachi and Dollar Shave Club couldn't be more different, but are both innovative businesses. However, neither has created a shiny new product. Instead, they have innovated the way things are done.
That's a really good way to create a unique business model, which in turn is a really good first step towards success.
Source: http://timkastelle.org/blog/2012/03/innovation-isnt-just-about-new-stuff/?utm_source=feedburner&utm_medium=feed&utm_campaign=Feed%3A+InnovationLeadershipNetwork+%28Innovation+Leadership+Network%29